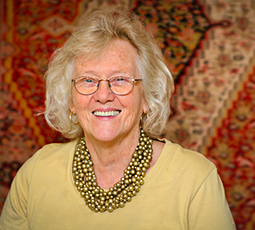 About Frances Newman
Education
B.A. English & Sociology, Sir George Williams University
B.A. Honours Psychology program, McGill University
M.A. Developmental Psychology, Simon Fraser University
Ph.D. Applied/Clinical Psychology, Simon Fraser University
Certification as a Registered Psychologist in the province of Ontario
Graduate of The Toronto Institute of Psychoanalysis
Background
I moved from Montreal to Burnaby B.C. early in my academic career to do graduate work in Developmental Psychology at Simon Fraser University. My master's thesis focused on aspects of linguistic development in early school-aged children. My early clinical experience included working with runaway adolescents at a shelter in Burnaby, B.C.; with mothers of babies and toddlers at a downtown Vancouver health centre, and with parents who had been charged with child abuse, within the B.C. court system.
Having received a Canada Council grant, I completed my doctoral courses at Simon Fraser and moved to Toronto to take up an 18-month doctoral internship at The Family Court Clinic and the Department of Psychology at The Clarke Institute of Psychiatry (now CAMH). In these settings I was involved in working in multi-disciplinary teams with complex custody and access disputes, assessing (with a variety of psychometric tools) children and parents referred by family court judges, and counselling parents referred by the CAS and CCAS. I conducted play therapy with school-aged children under the supervision of a psychiatrist psychoanalyst.
My doctoral dissertation was focused on adolescent ego and identity development of young women living in a downtown Toronto shelter for 'street kids'.
Employment
During the years of my doctoral academic work in Toronto I was employed as a research assistant at the Clarke Institute of Psychiatry where I assisted in studies amongst young adults diagnosed with schizophrenia on an inpatient ward.
After receiving my Ph.D. I was employed for 11 years at The Toronto General Hospital's Department of Psychology, and in inpatient and outpatient emergency Psychiatry and suicide prevention.
For more than 30 years in Toronto, I have maintained a private practice in psychotherapy.
Memberships
Read more about my approach to therapy and what to expect in therapy